CUT WASTE, SAVE TIME, SAVE MONEY
CUT WASTE, SAVE TIME, SAVE MONEY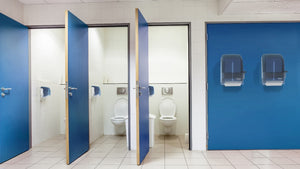 Cut Waste
Have you ever seen a spare toilet roll left on the cistern or on top of a washroom dispenser? It always ends up getting wet or dirty. It's caused by low capacity, single roll, or inefficient dispensers. The Raphael® VersaTwin™ dispenser is a compact-yet-high-capacity dispenser, holding two rolls at a time. The innovative Infinity system allows for quick and easy replenishment, without the need to place a spare roll on a dispenser. Simply remove the empty core, move the part roll left and place a new roll to the right. Minimal waste, minimal fuss, maximum efficiency.
Saving Time
Do you constantly find yourself having to replenish your washroom paper products?  The Raphael VersaTwin™ dispenser takes the hassle away, giving you a capacity of 250m, 2 ply tissue, 11706. giving you peace of mind between refills. The translucent dispenser also allows for replenishment checks at a distance, saving staff valuable time not having to open up dispensers, especially in large washrooms.
 Save Money
Time is money. Waste is money. Stop both. The Raphael® range allows staff to focus on other priorities, and its design gives you peace of mind that your washroom will be a cost efficient one. Rolls also dispense with added-tension, meaning consumption can also be minimized at the same time.
Improve Hygiene
In the post-Covid world, hand hygiene has never been so important. The NHS and WHO recommend drying hands with single use disposable towels, like the Raphael® range. Doing it with either a 'towel-in' dispenser, contactless dispensing or BioKleen™ treated surfaces puts the Raphael® range at the cutting edge of washroom hygiene.
The Raphael® range now available to Catering Supplies.
Raphael Recycled Toilet Roll White 2 Ply 11706
Raphael Recycled Roll Towel Blue 1ply 11707
Raphael Recycled Roll Towel White 1Ply 11708
Raphael Lotion Foam Soap Fragranced 11709
Do it all with other FSC® certified, sustainably sourced products:
Whisper Luxury 2ply Toilet Tissue 90748
Whisper Luxury 3ply Toilet Tissue 90755