New paper lids for hot cups! With innovative pull-back tab
New paper lids for hot cups! With innovative pull-back tab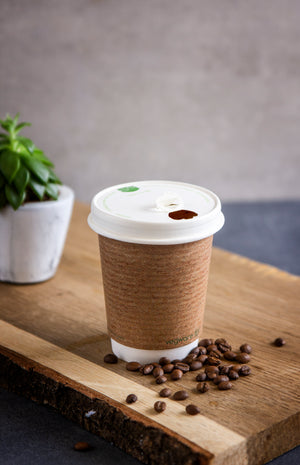 Introducing Vegware's pull-back tab paper lids! They're perfect for sipping hot drinks on the go. One innovative new design, available in two sizes:
Vegware Compostable Paper Hot Lid to fit 8oz hot cup: 13271
Vegware Compostable Paper Hot Lid to fit 12/16oz hot cup: 13272
Sustainable
Share your commitment with sustainability! Our crisp white lids have subtle on-product eco messaging and the Vegware Green Leaf pattern. In addition, they are made from sustainably-sourced paper, using bio-based, moisture-resistant BioPBS lining.  
What is BioPBS?
BioPBS is a compostable bioplastic, derived from natural materials. It is made from sugarcane, cassava and corn.  
Practical & Innovative
The pull-back tab covers the sip hole. So, they're perfect for takeaway teas, coffees and other hot drinks to go.
Contact your local depot or your customer service representative for more details.
Bidfood ordering codes:
Vegware Compostable Paper Hot Lid to fit 8oz hot cup: 13271
Vegware Compostable Paper Hot Lid to fit 12/16oz hot cup: 13272