New! Microflute boxes for hot food to go
New! Microflute boxes for hot food to go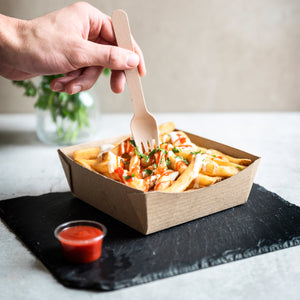 Introducing Vegware's microflute tray- and box for hot or cold food to go. Ideal for takeaway or delivery, these versatile fluted boxes are ideal for burgers, curries, salads, fried treats and so much more. 
Kraft No Window Food Box:                
6 x 5in Microflute   -  10517
6 x 6in Microflute   -  10516
8 x 5in Microflute   -  10515
Kraft Food Tray                                  
6 x 6in Microflute   -   10514
6 x 8in Microflute   -   10513
What's microflute?  
No, it's not made of tiny little flutes.
In fact, it's made from layered board which is 'fluted' or corrugated inside. The result is lots of pockets of air, giving fantastic insulation.
This means great news for your hot food delivery service.  
Suitable for hot cabinets
We went further in helping streamline your food service – these hinged lid boxes are suitable for hot cabinets. Keep your food warm and delight your hungry customers. Lovely.
Services can be busy, stressful periods. You need equipment you can rely on. Our new fluted takeaway boxes are robust yet lightweight. Giving you time to focus on the important stuff.
Compact for easy takeaway
Focusing on your customers' experience, we designed the microflute boxes to withstand the rigours of takeaway transit.  
We've also made the boxes with a compact footprint. To save you storage space, and of course, to help it fit easily in your customers' hands. 
Perforated lids
We've even solved the chips conundrum. Picture it, your customers are sharing a portion of fries. One likes mayo and the other likes ketchup. No need to fight!
Our microflute box lids are perforated – so your customers can tear the lid off and create their own artist's palette of condiments. Mayo on one half, ketchup on the other.
Elegant, practical & sustainable  
These kraft boxes have a compostable water-based coating. The result is an elegant, deli-chic takeaway box, perfectly suited to your needs. So, what will you be serving up?