P&G Professional: Reduce Energy Without Compromising Results
P&G Professional: Reduce Energy Without Compromising Results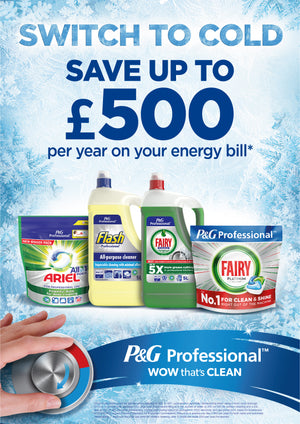 P&G Professional's range of trusted cleaning brands are formulated to deliver exceptional cleaning results even in colder temperatures and shorter wash cycles. This reduces your business' energy consumption and reduces your energy bills to ensure your business continues to thrive!

Against the backdrop of the current energy crisis and impending net zero targets, companies are now more aware than ever as to how much their practices are impacting the environment. Customers are also increasingly conscious of the products businesses use, and how sustainable they are. However, an emphasis on sustainability should not come at the expense of product performance. Businesses need commercial solutions that can save energy and conserve energy without compromising results.

P&G Professional's trusted brands – including Ariel® Professional, Lenor® Professional, Fairy® Professional, Flash® Professional – are formulated to provide an outstanding clean even with one wash, short cycles and low water temperatures, giving professionals confidence that their business will always shine.
Did you know that by switching to cold, you could save up to £500 on your yearly energy bill*?
See the P&G range here.
WIN 1 month's energy bill paid back for your business with P&G Professional!
Stand a chance to win one months'* energy bill paid back in the P&G Professional Energy Lucky Draw, enter in 3 easy steps:
Purchase any 2 P&G Professional products from your preferred distributor.
Scan the QR code & upload your receipt.
Enter your business' details and stand a chance to have your energy bill refunded for a month*: pgproevents.co.uk/energybillluckydraw
#Competition #WinWithPGProfessional
*Cost of electricity saved for laundry when washing at 30C vs 60C cycle and for automatic dishwashing when using a short cycle (average 47C) vs. a normal cycle (average 57C). Plus cost of gas saved filling in a 10L bucket of water at 20C vs 50C for surface cleaning and a 45L sink at 20C vs 46C for hand dishwashing. Energy cost saving based on average H1 2022 electricity and gas prices (incl. taxes) for businesses in the United Kingdom, source Eurostat (Statistics for European Commission). Based on 4 washes per day (1460 per year) for both hand and automatic dishwashing, 1 wash per day (365 per year) for surface cleaning, and 10 loads per week (520 per year) for laundry.