3 reasons for using concentrate vs. ready-to-use cleaning products
3 reasons for using concentrate vs. ready-to-use cleaning products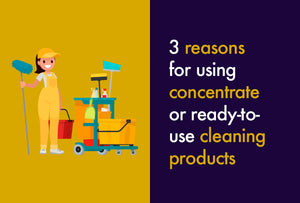 Whether it's a large or small kitchen, a kitchen in a school, pub or commercial operation – every business will need to employ a cleaning regimen and the appropriate cleaning chemicals.
Broadly speaking – there are two groups of cleaning chemicals – ready-to-use (RTU) and concentrated. During this blog, we'll address 3 benefits of each method, helping you identify which products within our Professional Supplies range will best suit you and your business.
Looking at Ready-to-use (RTU) products
Simpler
Without question, RTU products are much simpler to use – it's literally a point and spray product! No parts to go missing, no additional equipment required to dose or dilute – unpack and away you go. There is also no contract obligation like that of a system led solution.
Consistency
The cleaning product inside a RTU bottle has been made and diluted in a factory, using the same water supply day after day. Throw in quality control during production and of historic samples – this is a benefit you won't get with concentrated solutions. When diluting at point of use, mineral content will vary depending on your water source and there is a risk of not diluting 100% accurately.
Smaller foot print
RTU products are without doubt more suited to businesses with a small kitchen that may have limited wall space to mount chemical dispensing units. Our pack size of RTU products is no more than 6, so product storage should rarely be an issue!
Looking at concentrated cleaning products
Cost in use
With both Professional Supplies concentrate (5 litre) and super concentrate (2 litre) products, there is undoubtedly a large saving to be made if you dilute your own 750ml trigger bottles at point of use.
It is suggested that a system led solution best suits those businesses with a high level of custom… where product won't spend a long period of time in a storage room meaning shelf life could become an issue.
Sustainability
Concentrated cleaning products allow you to save on plastic consumption… in a big way! A 2 x 5 litre pack of Professional Supplies Sanitiser, for example, which uses a 30ml pelican pump to dose the concentrate, will provide you with over 300 x 750ml trigger bottles – that's a saving of almost 20kg in plastic!
Free-on-loan equipment
At Bidfood, we can help you decide on the best solution for your business. If it's decided that a super concentrate system (2 litre) is the best solution, Bidfood can provide all dispensing equipment free-on-loan which will be installed by a specialist cleaning chemical engineer.
At the end of the day, you need to find the cleaning regimen that best works for your business and we are happy to help you do this. Take a look at our 'Helping you with…hygiene – the right cleaning solutions for you' where you can find both ready-to-use and concentrated cleaning products, ensuring you reach excellent hygiene standards and make the right choices for your business.