Get Your Sustainable Bake on this Autumn with Wrapmaster®
Get Your Sustainable Bake on this Autumn with Wrapmaster®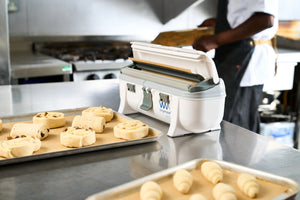 After the hottest summer on record, Autumn has arrived and it's time to introduce hearty dishes on menus with pastry creations, puds and roasts the order of the day.
From Sticky Toffee Pudding to proper pies - that's a pastry top and a bottom in our opinion – a high quality baking parchment is essential to making your life easier, saving time and money, as well as boosting your kitchen's sustainability.
The Practical Parchment
100% compostable, Wrapmaster® Baking Parchment is a brilliant all-rounder when it comes to all your baking and oven-ing needs. This practical parchment has an excellent non-stick quality, so you don't need to spend time pre-greasing your trays or wasting essentials like oils or butters.
It can also be used in the oven and microwave up to temperatures as high as 220ºc. So along with stopping those soggy bottoms, you can use it to line roasting trays and keep your contact grill clean – helping to save time on that Sunday service clean up.
Clean Cooking
Just like your food, what goes into your baking parchment is important too. Wrapmaster® Baking Parchment (21645, 88779) is unbleached and doesn't contain any fluorinated chemicals. That means there's no risk of any chemical nasties being absorbed into your cooking, that your customers could consume.
Better Baking for the Planet
Reducing our impact on the environment is a collective priority for hospitality. Wrapmaster® Baking Parchment (21645, 88779)  is made with materials from sustainable forests and is certified for home and industrial composting. So, you can have peace of mind, knowing you can compost it after - reducing your waste and boosting your sustainability in one easy roll.
Wrapmaster® Baking Parchment is available now from Bidfood here in 30cm (88779) and 45cm (21645) widths. So, you can use it in your favorite Wrapmaster® 3000 (70548) or Wrapmaster® 4500 dispenser (70546).
Contact your local depot or your customer service representative for more details.
Bidfood ordering codes:
21645 - Wrapmaster® Baking Parchment 45cm x 50m x 3 Refill Rolls
88779 - Wrapmaster® Baking Parchment 30cm x 35m x 3 Refill Rolls
70546 - Wrapmaster® 4500 dispenser
70548 - Wrapmaster® 3000 dispenser