2 Simple Steps To Take On Your Kitchen Sustainability Journey
2 Simple Steps To Take On Your Kitchen Sustainability Journey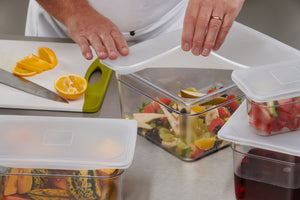 Running a sustainable kitchen has become a big focus for operators, so there's never been a better time to take a closer look at the equipment you use and your ingredient storage to keep food fresh and tasty!
Small changes can have a big impact on your sustainability, so in collaboration with Wrapmaster® - the professional dispensing system - here are two simple steps to help your kitchen reduce its environmental impact.
 1. Swap to Recyclable Cling Film
Now, cling film might seem like a small detail in your kitchen (and your sustainability journey) but when you think about how much you use in your daily prep, microwaving, chilling and freezing – 81% of chefs, caterers and F&B Managers* say cling film is an essential tool – then swapping to a recyclable** cling film like 13038 & 13037 Wrapmaster's PE Cling Film is a good way to protect your food, reduce waste and preserve that all important flavour. It's an excellent general film for wrapping and covering all types of food and ingredients. Best of all you can get it for all your favourite Wrapmaster dispensers – the 72662 Wrapmaster Duo, 70548 Wrapmaster 3000 and the 70546 Wrapmaster 4500!
Wrapmaster's PE Cling Film is Plasticizer, BPA and PVC free making it an excellent solution for kitchens who want a cling film that is better for their cooking and their sustainability.
2. Store Smarter
If you're serious about reducing your food waste, then how you store your ingredients will have a big impact on those ambitions. Innovations like the Flexsil-Lid by Wrapmaster range were designed by a chef, so you can be confident workability will go hand in hand with sustainability. Key features that The Caterer Magazine recognised in its 2021 Supplier Awards! Unlike other silicone lids, Flexsil-Lid's unique lip lock design locks in freshness creating an airtight seal to reduce food waste and make your ingredients last longer.
By 2025, Wrapmaster aims for all their products to be 100% circular. This means that they will only use recycled or renewable materials in the production process, and all their products will be recyclable or compostable after use, the prerequisite is the necessary technologies being available to them.
Contact your local depot or your customer service representative for more details.
*Independent Chef Panel Research, 100 participants Nov 2018
**Please check your local facilities for PE Cling Film recycling options including major supermarkets.