Helping you with...Winter Warming Takeaways
Helping you with...Winter Warming Takeaways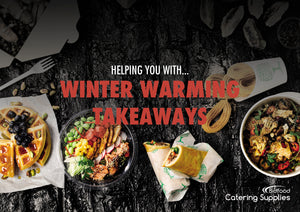 The takeaway industry really took off in 2020 as we were forced to stay at home, and with hospitality being shut for Christmas last year, the takeaway industry just kept on booming. There is no sign of it slowing down as it has become a new ingrained habit. The winter season is still looking a bit uncertain but if anything we know takeaway and home delivery is a guaranteed service our customers can provide.
The last few months have presented a constant stream of challenges for the industry with material, product and delivery issues.
This simple guide gives you the key products from our core range to serve winter warming takeaways in. But it also gives ideas of how you can use food to go packaging in multiple ways from serving breakfast to lunch in the same pot; not restricted to meal type or occasion, giving flexibility to our customers they need right now. By having a tighter range of packaging is also great for space and cost savings.
The guide also gives you some insights and top tips for takeaways and not forgetting the key steps to a safe handling of home delivery/takeaway.
You can view the guide here.