Make the Safer Choice for Those Who Depend on You!
Make the Safer Choice for Those Who Depend on You!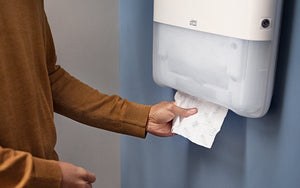 Today, people may assume that using air dryers after handwashing is just another way to dry hands. But that's not the case, as jet air dryers spread up to 10x more bacteria.[1]
 As society adjusts to a new hygiene environment, people want to feel confident that their workplaces and public spaces they visit are upholding a high standard of hygiene.
Did you know: 

56% of users surveyed in the UK wish more facilities offered paper hand towels as an alternative to air dryers.[2]

76% of users surveyed say they feel more unsafe using facilities with unhygienic public washrooms due to COVID-19.2

36% of users surveyed agree or strongly agree "I am less likely to go to places that do not offer paper hand towels as a hand drying alternative."2
 Tork is committed to helping people feel safer in public spaces with products designed to maintain the high standards of hygiene that society now demands. Visit www.tork.co.uk/saferchoice to learn more about how to make safer choices for the people who depend on you.
 Bidfood have a wide range of paper handtowels which you can see here
[1]  Best et al, J Hosp Infection, 2014
[2]  2021 Survey conducted by United Minds in cooperation with CINT in March 2021. The survey covered the UK with a total of 1008 respondents