10 Core Range Products You Need In Your Kitchen
10 Core Range Products You Need In Your Kitchen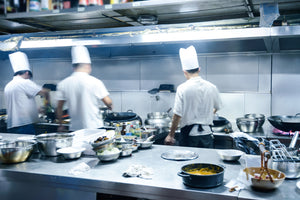 What do you think are the most important products in your kitchen? Do you have a favourite potato peeler? A favourite spoon that no one else is allowed to use?

We wanted to have a look at some of the core products that are needed in a kitchen to ensure everything runs smoothly and safely. From surface sanitiser to food labels, there are some products you just can't deal without in your business!

In a time where choosing products for your kitchen can be a minefield, it's important to bring it back to basics and ensure that you have that Core Range that will really help you to do what you do best – cook great food!
1. Surface Sanitiser (07948)
Having a surface sanitiser that works well has never been more important. Coming in dispensers or spray bottles, we know that a food-safe sanitiser is a must in every kitchen.
2. Blue Centre Feed Roll (
04355
)
It would be rare to walk into a commercial kitchen and not see blue roll – an all-rounder for spills, cleaning or even drying wet hands, blue roll is key for kitchens.
3. Mops (49453)
Finding the right mop for the right area can be a minefield – keep your eyes peeled for a helpful blog on this in the coming months!
4. Floor Cleaner (72510)
Kitchens can be greasy, dirty places – with food dropping on floors, oil being used and kitchens being so busy, an effective, degreasing floor cleaner is essential to ensuring safety and hygiene.
5. Cloths & Scourers (30014 & 27472)
It's all well and good having your cleaning chemicals, but without anything to use them with, they would be useless! Cloths and scourers are such a small piece of a kitchen, but their existence is so important!
6. Washing Up Liquid (05385)
Commercial dishwashers are a wonderful thing, but there are some things that still need to be washed up by hand – that's where our trusty Washing Up Liquid comes in. Small bottles, big bottles – take your pick, but we all know we can't live without it!
7. Cling Film (02238)
Keeping food fresh and covered is so important in a kitchen – whether you are using a cutterbox or a dispenser, cling film is a life saver for keeping food waste to a minimum.
8.Refuse Sacks (30081)
We have all gone through the pain of a black sack splitting when we have filled it too much – this just highlights the importance of having a strong, great quality refuse sack!
9. Food Labels (11937 & 11943)
Labels are essential in any kitchen – rotation labels can help you improve inventory management, monitor the dates of your food and reduce food waste.
10. Food to Go (10517)
It's all well and good prepping and cleaning that kitchen, but without anything to serve in, that food won't get to the customers! Great food packaging is a must, especially with takeaway business booming over the last couple of years!
We know there are a lot more products that are needed in a kitchen, but we wanted to show a few that we thought were essential.
Of course, don't forget that lucky potato peeler!