Christmas All Wrapped Up!
Christmas All Wrapped Up!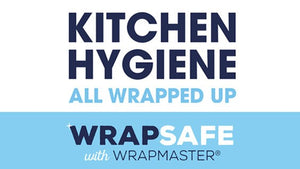 It's beginning to look a lot like Christmas and if you're not already, this month is undoubtedly going to be a busy time for you and the kitchen.
So, what are the key things to think about before you roll up those imaginary chef sleeves? Wrapmaster – the professional's dispensing system (70546) – along with Dennis Mwakulua, Executive Chef, have compiled a top list to help you over the festive season, from prepping like a boss to keeping it clean for a faster wash up!
Know Your Oven
When cooking for holiday season, make sure your oven is big enough for the whole bird and its trimmings. Even in a commercial oven. You will need all the space you can get!
Stock up now!
With Christmas dinner on the menu every day of December, be prepared and stock up on your wrap, especially aluminium foil. You don't want to run out before the big day!
Prep like a boss
Preparation is key, especially for Christmas Day. Prepare as much as you can in advance to take the pressure off and store your food safely. Place cling film over your dishes to create an airtight seal, it'll protect your food from contamination, keep it fresh, as well as absorb any smells.
Storing like a Pro
Don't risk your film coming loose on freshly prepped ingredients. For a hygienic seal, use twice the length of film you need to cover the container. Place the cling film on your work surface first, then your container on top. Wrap up, over and then under. Secure with a second layer if needed and it's good to go in the fridge!
Know Your Bird
Make sure your turkey is at room temperature 30 minutes before going in the oven. Wrap your marinated turkey in foil for the first two hours of roasting to keep those flavours locked in. Then remove the foil and continue to roast until golden brown and has reached the core temperature. Perfection!
Keep It Clean
Nobody wants to clean up a messy kitchen at the end of service, but you can make it a whole lot faster by using a sheet of cling film on your surfaces before baking or prepping meats.
No More Dirty Tins
Okay they might be a bit greasy, but you can make your kitchen porter's life a whole lot easier by lining your roasting trays with baking paper, before adding the turkey and its trimmings.
Shortlisted in The Caterer Supplier Awards 2021, Wrapmaster is the professional chef's choice for film, foil and baking parchment. Their high-quality range of strong, durable and high-performance foodservice wraps are designed for tough kitchens. They will make prepping and cooking easier, especially when teamed with one of their award-winning dispensers.
Wrapmaster's one cut mechanism is fast and safe to use, plus it can be wiped down with sanitiser and disinfected in a commercial dishwasher. Helping you manage your food safety when it comes to allergens and cross-contamination. This usability also means less tangles, waste and cost with kitchens typically making a saving of 25%!
To find out how Wrapmaster can help you get Christmas Wrapped Up, see the full range here
Happy Christmas!