Disposable gloves – which one to choose?
Disposable gloves – which one to choose?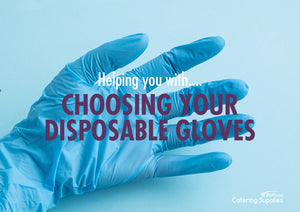 Vinyl and nitrile disposable gloves are the most popular choices when choosing disposable gloves, and each has its own qualities.
Vinyl gloves are a synthetic glove made from PVC, offering protection against a range of hazard and safe for food handling. They are typically less durable that nitrile gloves and often used for shorter periods of time and where loose fit and ease of use are important such as for food preparation.
Nitrile is a synthetic man-made rubber, free from latex but they have a latex-like feel and fit.  They are strong and flexible making them more puncture, tear and abrasion resistant, relative to other gloves. They are ideal for the care sector and also safe for food handling.
Polythene gloves are a low cost food service glove also ideal for food prepping. They have a smooth finish and bagged for easy dispensing.
All of the gloves offer a great personal protective equipment solution, choosing your glove comes down to cost, comfort and level of protection.
To help you choose the right glove for your business, take a look at our Helping you with…choosing your disposable gloves guide.