Global Handwashing Day – How Professional Supplies Can Help
Global Handwashing Day – How Professional Supplies Can Help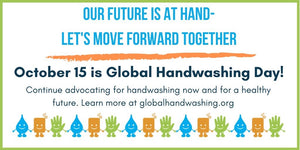 Every year, Global Handwashing Day takes place on the 15th October – a platform to both raise awareness and build commitment towards hand hygiene. Washing your hands with soap is a simple, safe and effective way to prevent the spread of bacteria and viruses, including COVID-19.
Washing your hands for at least 20 seconds with Bidfood's Professional Supplies Antibacterial Hand Soap (6 x 500ml, 70194) and drying your hands with paper towels can help reduce respiratory illnesses in the general population by up to 21% 1.
Please follow our simple hand hygiene steps to help protect yourselves and others in and outside the workplace, which can be found in our new product leaflet.
 #GlobalHandwashingDay