Helping you with…guides, launched during the pandemic and looking to the future
Helping you with…guides, launched during the pandemic and looking to the future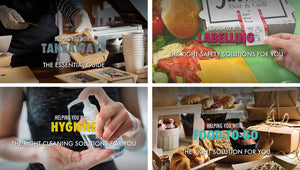 As lockdown begins to ease with outdoor dining in full swing and indoor dining opening up on the 17th May, we reflect on how we have adapted in the last year.
Throughout the pandemic Bidfood Catering Supplies have looked at ways of supporting our customers. Hygiene has been the number one factor for both customers and consumers so new products such as hand sanitisers, masks and PPE have been launched as well as supporting tools to ensure our customers get it right the first time.
Takeaway has grown like never before and 2020 was certainly the year for this market to grow as many of our customers converted their out-of-home food establishments to offer a takeaway solutions that consumers could enjoy at home.
To support our customers with making the best solutions for their businesses we have launched a series of Helping you with Guides over the past year, this started off as a few pages but quickly developed into larger guides including product solutions, insights, hints & tips and step guides into how to best tackle hygiene and takeaway in the new landscape we were all navigating.
Hygiene will continue to be import as consumers will need reassurance of cleaning and safety practices when eating out. And takeaway is here to stay, according to a recent survey 58% said they would continue with their regular take-away even once indoor dining was fully opened up.* Time will tell if this will remain as strongly as during the pandemic but the eating in market has no doubt changed.
So, whether you're looking for the perfect cleaning solution for your organisation, how to get back to business or simply the correct food to go packaging needed for your outdoor facilities. We have all your product needs and requirements in these handy guides to help you come out of lockdown with the right solution to hand.
We look excitedly to the future and will continue to support our customers with relevant guides as we move forward out of lockdown and the pandemic.
* *Mintel Attitudes to Take-away & Delivery March 2021